The Social Company that PAYS!
Join thousands of people from more than 30 countries who have been paid millions in commissions!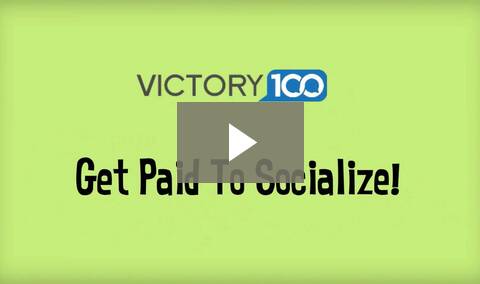 We are a NEW type of networking company that combines the power of multi-tiered affiliate marketing with social media training and management. We offer two AWESOME products that focus on social media management and personal development. Both products also come with a robust business development system.

All Victory100 Members have an equal opportunity to earn income through the 100% commission program and through our Seven Core Values, Victory100 remains committed to continuously growing and enhancing our systems to provide an empowering end-user experience.
Premier Product for Social Media Management
Each of these sections is a business model in itself, however Victory100 has combined them into one powerful management system.
V-SOCIAL is a multi-faceted social media management system. The system includes five distinct sections:
Social media PLUS personal success/leadership training
Born from demand for enhanced personal development, Victory100 launched V-Success. The V-Success product offers users expert-level insight as well as motivational videos, success training, eBooks and Infographics.

Led by Chairman and industry icon Keith Harding, V-Success offers huge value to users who need help with everything from organization to motivation, success strategies and much more.
These tools are core to business development and help users manage promotions, contacts and communication.
Even though users would pay a substantial premium for use of tools like these on other sites, Victory100 offers them for free to Members as part of their user experience.